Engagement Sessions in Austin
Finding an engagement photographer in Austin is hard enough—imagine planning the engagement session! When people hire me to be their wedding photographer, some of their first questions are, "What are good engagement session locations in Austin??" or "J, what do I wear to my engagement session?"
So here's a guide to planning your engagement session, with some location suggestions in and around Austin! Also, make sure to check out some engagement session inspiration. 
Picking an Engagement Session Outfit
Everyone has a different style when it comes to picking outfits for engagement sessions. Some couples show up with a whole closet; others show up with a single outfit. There's no right or wrong way to dress for your session. But here are some recommendations:
Depending on your location, you need to consider whether bright or neutral clothing is a good idea. If the location is sunny, then perhaps toning down your outfits is a good idea. 

Avoid busy prints unless the location is neutral. Otherwise, the images will be overwhelming to the eye. 

Should you match clothing for an engagement session?

Absolutely not

. Since you and your partner are individuals, you should feature this individualism. However, coordinating colors is a great idea! 

Another thing to consider when choosing the outfit is whether or not the location requires specialized clothing. You (probably) don't want to wear heels in a field or a dress to go hiking. For men, consider the temp! Wearing wool in July will be nothing but miserable. 
Where to Photograph Engagement Sessions in Austin
I have plenty of great ideas for locations for engagement photography, but let's talk about the nitty gritty. 
Generally speaking, in Austin, you can choose between greenery and/or urban. Downtown Austin is perfect for urban engagement sessions, with all of the stunning murals and backdrops. There are activities to do, like visiting a food truck or grabbing a drink at a chic restaurant. 
You can also choose quirky stores in Downtown Austin. The options are endless! 
If you're looking for a more greenery-focused engagement session location, then Austin is ready to deliver with stunning parks all over the city. Outside Austin, the Hill Country has gorgeous parks and venues willing to host your session. 
Looking to be outdoors but not a park-kind-of-person? Planning activities like stand-up paddle boarding, playing with your dog, or even hiking Mount Bonnell can be a refreshing approach to how the session will go! 
How Long Are Engagement Sessions?
Everyone's needs vary, but normally it's around one hour of time. We can get together and plan this, though. Engagement sessions with multiple locations might need additional time added. Make sure to touch base ASAP to get on the same page!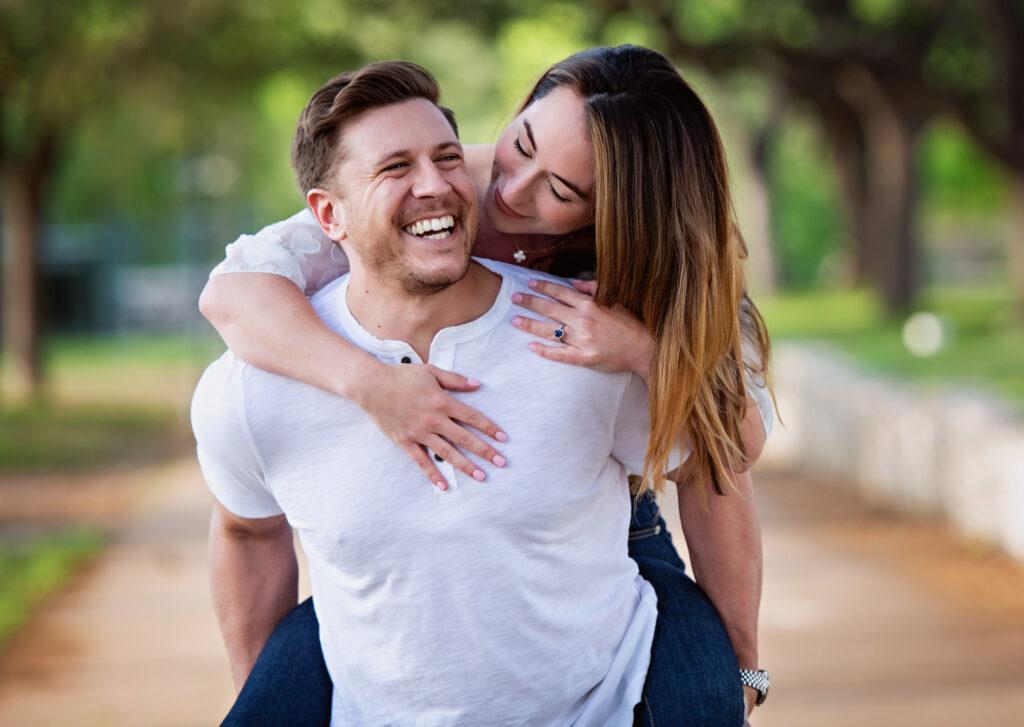 What Do Your Engagement Sessions Packages Include?
Our engagement sessions include up to 90 minutes of time, which can include multiple locations and outfit changes. All of the edited images, the best of the best, will be delivered within one month, only for $525! 
What is a good time for engagement sessions?
Depending on the time of year, this will vary. In the winter, sunset is around 5:30 pm, but it will often darken earlier, thanks to cloud coverage. In the summer, we can shoot until 8:30 pm. 
Regardless of the time we choose, we'll start 60-90 minutes before sunset! 
What Do I Bring to the Engagement Session?
You can just bring yourself! However, if you want to arrive a little more prepared, here's a list of items to bring: 
A sweat towel. You might laugh, but especially in the summer, this is a lifesaver! Especially for men. 

Breath mints. Okay, you're going to be up close and personal with your partner—just pop a mint, and you don't have to worry about possibly making it uncomfortable. 

A change of shoes. Are you going to be outside, maybe even hiking? Bringing a change of shoes can help save your feet and possibly save you from falling on your butt! 

A great attitude. Believe it or not, this isn't always the default accessory. Photography can feel weird, but if you're ready to laugh, it'll be a breeze.

Alcohol. Speaking of loosening up, some couples bring little bottles of booze to feel more relaxed. No more than two, though! 
Are Engagement Photos Used for Save the Dates?
Absolutely! Save the dates are sent out around nine months before the big day. A cute photo of you and your partner is a fun way to announce the impending nuptials. As a result, we should plan your engagement session when you book to ensure you don't miss that soft deadline! 
Planning your Austin engagement session doesn't have to be stressful! I'm always willing to work with my couples to make the process and experience a breeze. These are great tips for planning your Austin engagement session, but you're always welcome to reach out and ask to brainstorm over the phone. Just remember: it's a journey, and it's supposed to be fun!