How to Plan a Small Wedding in Austin
Small weddings, or micro-weddings, are all the rage now. Imagine having only your nearest and dearest on the big day. No riff-raff. No pomp and circumstance. Just what matters most to you. That's why when you're planning a small wedding in Austin, it's important to keep things as easy as possible. 
There are so many wonderful places for a wedding in Austin, and it can be hard to narrow down what will make the perfect day for you. But you have to start somewhere, so let's begin with some questions you might have! 
Where can I have a small wedding in Austin? 
There are so many options, but here are our top favorite wedding venues in Austin for small weddings: 
What is considered small for a wedding? 
The generally accepted guest count for a small wedding is less than 50 guests. Of course, you can trim that number down. Micro-weddings are 15 people or less.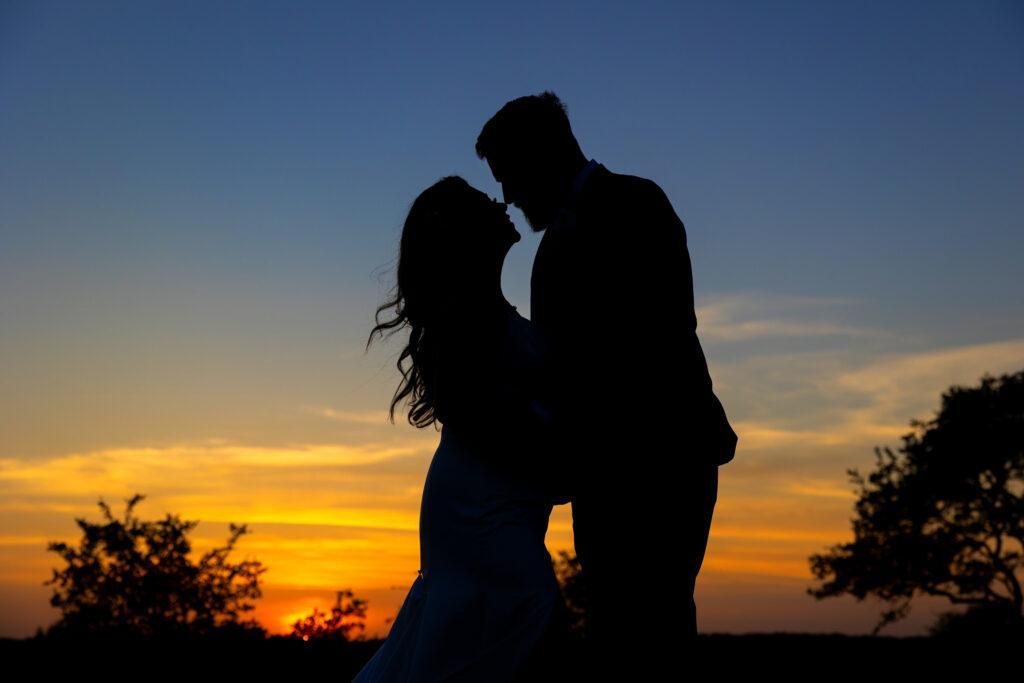 What are the benefits of small weddings?
Great question! While the answer might be unique to different individuals, a lot of people will agree the top five benefits to small weddings are:
Saving money! 

Cutting down the possible drama. 

Able to spend more on what matters. 

Less stress (in theory). 

More quality time for loved ones. 
Let's be honest for a second: Weddings are friggin' expensive! The average wedding nowadays is over $25k. This includes must-haves like catering, a DJ, a reception venue, etc. But the more people you invite, the expectation for an impressive event grows. No one expects a beer donkey at a wedding with 15 guests, but if you have over 150 guests, you'll probably hear, "My friend Stacee had a beer donkey at her wedding, and it was so cute…"
Keeping your wedding small is one step towards spending money on other things, perhaps your honeymoon! 
Cutting Down Possible Drama
You'll learn quickly that nobody takes anything more personally than their experience inside your wedding. Your Uncle Roger might never speak to you again if you don't invite him. Your cousin, who is bringing her seventh husband she's known for three weeks, will be absolutely offended if you don't make her a bridesmaid. 
When you can say, "We're keeping it to close friends and immediate family only," that helps cut down the riff-raff. Of course, this won't stop your Mom from pretending it's her second wedding, but that's its own battle. 
Spending Money on What Matters
Aside from the cost-saving aspect, another benefit to a smaller wedding is the exciting fact that you can put your money towards must-haves that are really important to you, like a dream customized outfit or a full-service caterer that's $100 a plate. 
It's possible to keep small weddings less than $10k (and even less than that!), as long as you keep that guest count tight. 
Less Stress (In Theory)
Planning a wedding is stressful. This is unavoidable. Even the tiniest requires attention to detail, emails, invoices, and some level of vision. But when you keep things smaller, you can cut down the stress, sometimes by more than half. As a side recommendation, we are big fans of wedding coordinators, even for small weddings. Coordinators take all of the details and execute them on the day, cutting down any possible stress on your part by even more!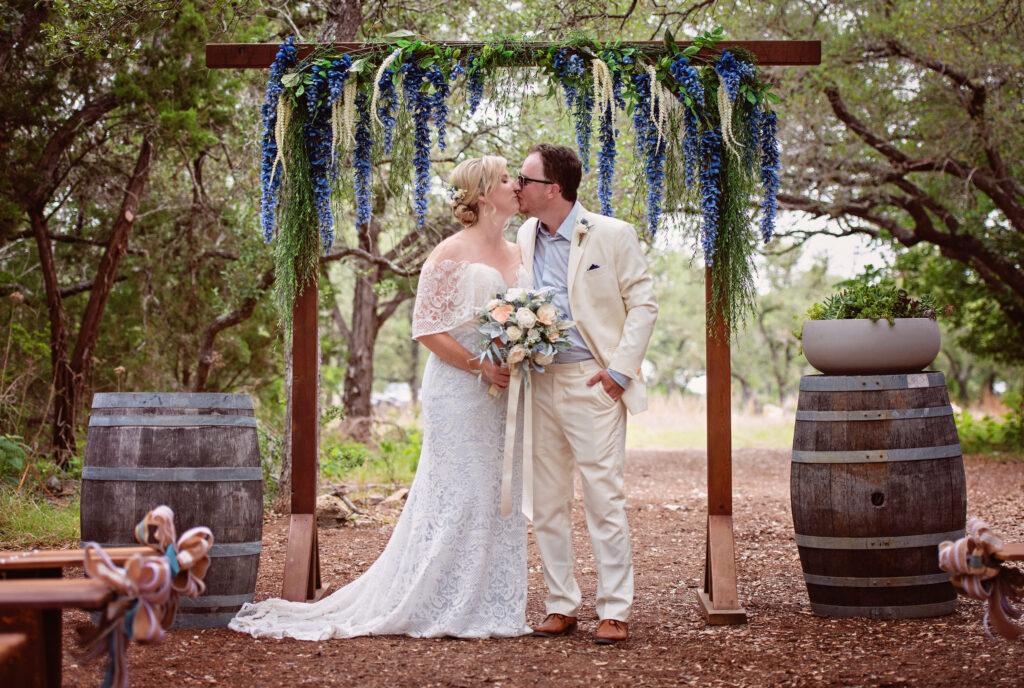 More Quality Time for Loved Ones
For large weddings, there is an activity called Table Touches, where the couple goes to each table that holds 6-10 people and says hi to the group. Often, this is the most interaction couples have with their guests, even the ones that come out of town. 
But with smaller weddings, this isn't the case! You'll have the opportunity to say hello to everyone personally, something most people will appreciate. 
How do I budget for a wedding under $5k?
We've discussed the benefits of small weddings in Austin and, really, the number one reason is to create a budget and save money. But how do you do that? Let's go over some ways! 
Minimize your guest list

Considering the venue

Getting creative with food and beverage

Booking your event outside peak season

Do-It-Yourself decor

Call in favors
Minimizing Your Guest List
Sure, we've talked about how you don't have to invite everyone, but how do you narrow the guest list? First, write a list of everyone that must be there. Your best friend(s), family, even maybe your favorite co-worker (only if they're truly besties). Start the list with allowing only 25 people, then build from there. Do not count on people declining. A lot of people do this and it doesn't always work in their favor. 
Consider the Venue
Some wedding venues cost thousands upon thousands upon thousands—and that's without food and beverage minimums. Picking a venue with a lower investment price is vital to keeping costs low! Refer to some of our recommendations above as starting points. 
Get Creative with Food and Beverage
Ah, food—the second most expensive part of a wedding day. When it comes to choosing a caterer for weddings, it's important to contact them with a per-person budget in mind. You also need to decide between full-service plated meals or a buffet. The pricing will be drastically different! A lot of couples, especially trying to save money, will err on the side of buffet meals. 
Some couples also make their wedding a BYOB affair. This works if you don't want people to really drink or dance. If you're aiming for a party vibe, though, then I recommend not going this route. However, you can buy booze at Costco or a liquor store that accepts returns—whatever you don't buy, you can return! 
Book the Event Outside Peak Season
Every locale has a different peak season, but weddings in Texas generally take place from March to June, then October through mid-December. These are the best weather months. But choosing your wedding between January and February, as well as July through September, means some vendors will be more flexible. 
These seasons are normally "high inventory" months, where the calendars are more empty. Again, this is very vendor-specific, but even venues and caterers can offer discounts usually. 
Another point to consider is the time of the week. Weddings that happen Monday through Thursday are more likely to be discounted as well, especially at venues! 
Do-It-Yourself Decorations
This recommendation is definitely not for everyone! DIY decorations for weddings can present some really annoying obstacles, like time. You know, that thing so few of us have? 
But a lot of couples, more so brides, choose these options for their wedding day. Even if it's a stack of books with candles, making paper decorations, or even printing out locations you've both traveled to together, choosing a DIY option can save hundreds if not thousands. 
Call in Favors
A lot of family members and friends are more than happy to offer their time and even money. People are almost always eager to be a part of something bigger than themselves, and weddings are no exception. 
While it's more uncommon now for parents to lend a financial hand, you can reach out to those that you know will help, even if it's coordinating on the day with the caterer or making dessert. We've seen entire families make the food (and it was surprisingly good!). The worst they can do is say no, right?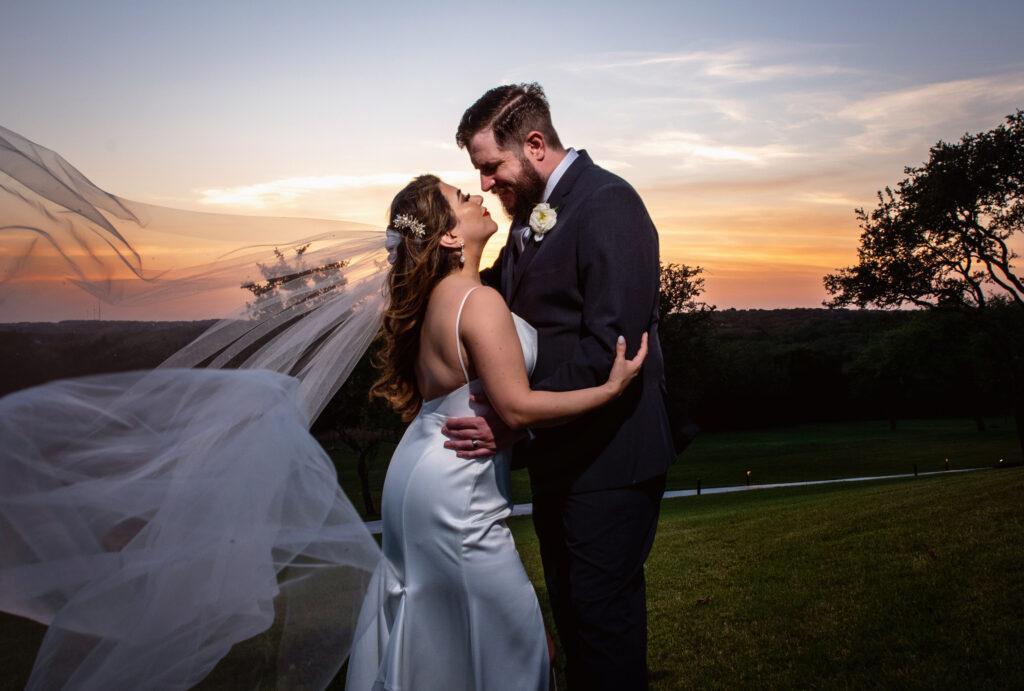 What Vendors Do I Book First For a Wedding?
Ah, the age-old question for couples planning a wedding. Well, we can't tell you exactly who to snatch up first, but here's a list of vendors to hire first. 
Your Top Three
Okay, this is cheating, but you need to decide which three vendors are most important to you. This will flesh out your budget, as well. Have you always dreamed of a stunning dress? Or food so memorable, it's a discussion at family dinners for years? Maybe it's a DJ that keeps the party mode going for hours.
Whatever your dream vendors are first, get them first. Period. A lot of vendors book up to years in advance, so nailing them down now is vital. 
Venue
If the venue isn't in your top three, this step is next. Taking in all of our advice into account, finding a venue that fits your direct needs is the thing to do next! 
The Photographer
So many people think it'll be fine to skimp on this, but you really can't. Yes, I'm biased, but so many people have expressed regrets on this account. Don't let that be your story, too. 
Officiant
Okay, this might surprise you, but just the way a DJ can make or break your reception, the officiant can make or break your ceremony! We've seen officiants absolutely botch the ceremony…do you want that to be your memory too? 
Hair/Makeup
This is another vendor that flies off the metaphorical shelves as well. Great HMUAs are so difficult to find. Getting them booked is important if you want to feel/look your best. 
What Else to Know About Planning a Small Wedding in Austin
Consider where to have the reception dinner

What kind of distance will your guests need to travel?

Consider hiring a planner for logistics

Smaller weddings tend to avoid traditional activities
Considering Where to Have the Reception Dinner
If you're using a venue just for the ceremony, then make sure to consider where to have the dinner. Don't just show up, either. A lot of restaurants not only require reservations for parties of 6 or more, they may offer a limited menu to make sure the kitchen can easily execute your needs. 
Make Sure to Consider the Distance of Travel
In Austin, there's a bit of distance between downtown Austin and the Hill Country (Dripping Springs, Buda, Kyle, etc.). A lot of the further-off locations require a taxi service or some other form of event transportation. Make sure to check that all of your guests are able to comfortably travel, especially after drinking. 
Consider Hiring a Wedding Coordinator or Planner
The less stress you want to deal with, the more you'll want to consider a planner or coordinator. While wedding planners and wedding coordinators offer various forms of service (they are not the same thing!), either will cut down the stress of planning. 
Smaller Weddings Avoid Traditional Activities
A lot of wedding traditions are questionable nowadays, but even fun things like the first dance don't always happen for small weddings. Consider which activities are the most important to you and plan your Austin wedding reception accordingly.